Štumpovka family mountain hotel and Dvoračky mountain chalet
Štumpovka was originally founded as a farmhouse that was bought by Mr Štumpe in 1930. In 1933 his daughter Kristýna was born and in 1938 daughter Jana, who both lived here until 1956. Their father, after the nationalization, worked here as a coachman and provided supplies with the aid of horses. During the totalitarian regime the homestead was operated as a tourist hostel with approximately 50 beds in 6 bedrooms. In June 1990 it burned down for unknown reasons and the KRNAP management had the site of fire pulled down. Only a transformer station remained from the original estate.
In 1991 our uncle, Ing. Jiří Justicz, bought the neighbouring Dvoračky from Mr Jindříšek and Mr Truhlář, who had gained the estate from the Krkonoše Interhotels. In 1992 Mr Justicz bought the plot and the burnt place after the former building from Mr Štumpe's daughters.
Dvoračky is a very old chalet, founded in 1707 by the Schier family as a mountain farmhouse for breeding cattle on surrounding vast meadows. The original name was Rokytenské dvorské boudy. In March 1893 the original chalet burned down and the site of fire was bought by Count Harrach and rebuilt into a frequently visited inn. In February 1902 the seventh Czech Championship of skiing took place here. In 1921 during the land reform it became a state property and was leased to the Czech family of Puhonný who also bought it later. Since 1923 the "mute blazes" have been used that have contained a "blaze" for Dvoračky too. A memorial book documents prestigious guests such as the president Dr. Edvard Beneš with his wife Hana, who loved the Giant Mountains and spent their holiday in Dvoračky before the second world war, and again in 1945.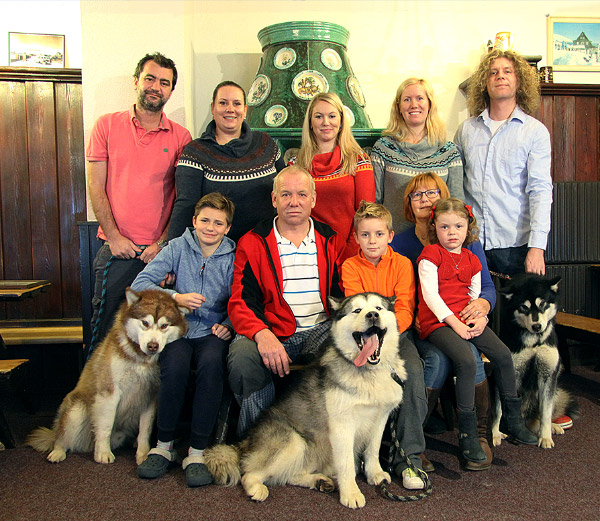 Our family has taken care of Dvoračky since 24th April 1993.
First, we were saving a completely devastated Dvoračky chalet after the totalitarian regime by doing total reconstructions so that it would at least partially comply with hygiene regulations and standards. In 2000 we bought Dvoračky chalet including the plot after the burnt-out homestead from our uncle.
Following the still-increasing pressure of new hygiene regulations and standards we were not able to keep Dvoračky in operation for 365 days a year, so we decided to renew a former homestead on the site of fire. In May 2002 we started the construction of a new building that was put into preliminary use on 18th December 2008 and on 26th December 2008 it was opened to public. In the course of 7 years, we built the whole building to its current form by ourselves, depending on finances available.
We harvested wood and cut on our own frame-saw, we would bring our own material with the help of, today already historic, transport vehicles, tables, chairs, chandeliers and other wooden furniture were made here in a home carpentry. The whole construction was designed and supervised by Ing. Jiří Dobeš from Jilemnice who designed the project according to the former Labská bouda from the point of view of the Elbe valley that burned down on 6th November 1965 due to the mistake of careless craftsmen.
We profess and appreciate the hard and demanding work of our predecessors (excluding the totalitarian regime) in this mountain environment who had worked here in difficult conditions and could only rely on their closed ones, hard work, skills, endurance and ingeniousness.
The new building – the hotel was named after the former owner Mr Štumpe – Štumpovka mountain hotel.
We hope that our grandchildren, so far Tonička, Bertík and Olívie, will be our good successors.
With the mountain greeting of "Skol", the Starý family